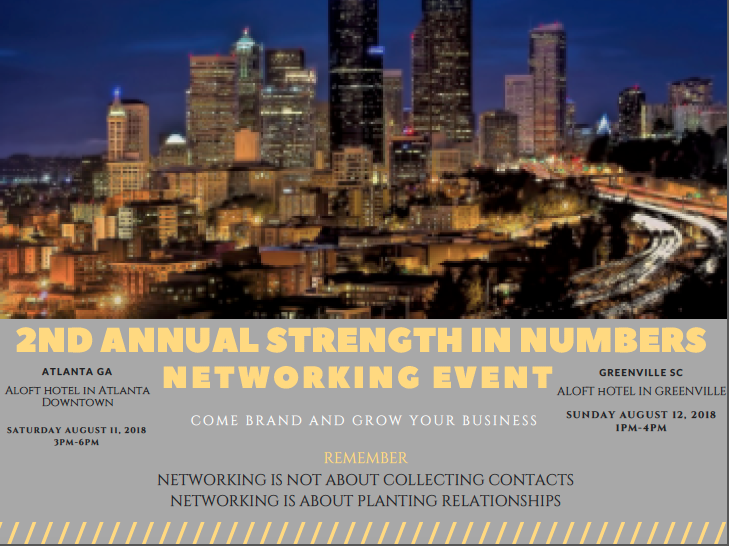 Strength in Numbers Networking Event…
MOTTO
"Two are better than one, because they have a good reward for their toil. For if they fall, one will lift up his fellow. But woe to him who is alone when he falls and has not another to lift him up" Ecclesiastes 4: 9-12
—————————————————————————
Friends and Family Give Strength
9 Two people are better than one. When two people work together, they get more work done.
10 If one person falls, the other person can reach out to help. But those who are alone when they fall have no one to help them.
11 If two people sleep together, they will be warm. But a person sleeping alone will not be warm.
12 An enemy might be able to defeat one person, but two people can stand back-to-back to defend each other. And three people are even stronger. They are like a rope that has three parts wrapped together—it is very hard to break.
DESCRIPTION
Strength in Numbers Networking Event is an event to help business owners promote and to let others know that there is power in numbers. It's about letting people in the surrounding areas know that there are great designers, writers, caterers, etc around them that are doing amazing things. My goal is to bring everyone together, under one roof, to network, promote, share and become connected.
MISSION STATEMENT
Strength in Numbers Networking Event, a charitable organization, is dedicated to promoting empowerment to the less fortunate by giving back. It is a resource for people, businesses, and communities to work towards giving back to the less fortunate, strengthening our community, our culture and businesses prospering through economic and social justice. Our purpose is to strengthen families, grow a sustainable regional economy, cultivate leadership, build confidence, create jobs, and foster respect for all. Through our non-profit, giving of businesses, and other special programs, Strength in Numbers Networking Event is building a strong foundation for the future of our region.